Important Updates
Congratulations to the students whose art entries have been recognized – we are SO PROUD of you! In particular it is exciting that 2 of our Wilburton entries received an "Outstanding Interpretation" award and will be moved on to the state level of the Reflections Program. 
Outstanding Interpretation (moves on to State):
– Music Composition: Alex Li "Back to Bellevue"
– Visual Arts: Alexandra Chen "The Lovely Ballerina (My Hero)"
Award of Excellence:
– Visual Arts: Mark Yu "Hero"
Award of Merit:
– Visual Arts: Alex Li "Dav Pilkey, My Favorite Author"
Reflections Program Overview
The Reflections Program is a National PTA and Washington State PTA cultural arts competition.
The purpose is to provide an opportunity for students to use their creative talents by expressing themselves through their own original works.
This year the theme is "Heroes Around Me"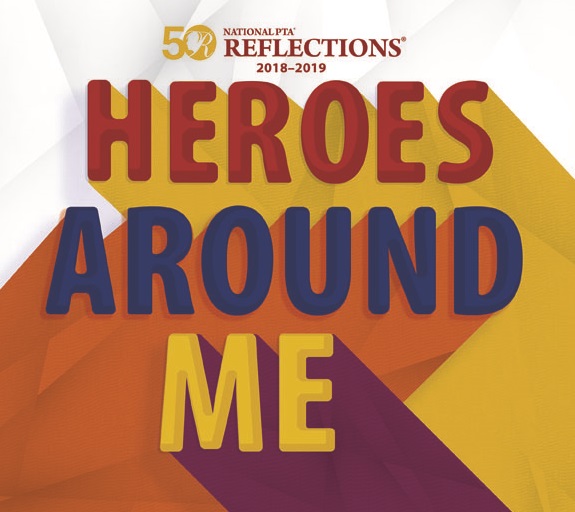 Registration
How To Participate
Young artists get involved through PTA. A student may submit an entry in any of six arts areas. Only original works of art are accepted. The six art areas are: Visual Arts in 2D or 3D, Photography, Literature, Music Composition, Dance Choreography, and Film Production.
01.
To Participate, please download the student entry form. Completed Student entry form MUST be submitted along with the entries.
02.
Submit Student Entry Form & Artwork to: Reflection Box in school office by November 15, 2018.
Get In Touch
Location: 12300 Main Street, Bellevue, WA 98005
Telephone: (425) 456-4300
Email: bechtholdm@bsd405.org
School Hours: M-T-T-F: 8:00 am – 2:30 pm
Wednesday: 8:00 am – 12:10 pm
Non-Discrimination Policy
Bellevue School District does not discriminate in any programs or activities on the basis of sex, race, creed, religion, color, national origin, age, veteran or military status, sexual orientation, gender expression or identity, disability, or the use of a trained dog guide or service animal and provides equal access to designated youth groups. The following employees have been designated to handle questions and complaints of alleged discrimination: Title IX Coordinator: Jeff Lowell, (425) 456-4010 or lowellj@bsd405.org; Section 504/ADA Coordinator: Heather Edlund, (425) 456-4156 or edlundh@bsd405.org; Civil Rights/Nondiscrimination Compliance Coordinator Alexa Allman, (425) 456-4040 or allmana@bsd405.org. Mailing address for all three: 12111 NE 1st Street, Bellevue, WA 98005.
The Bellevue School District is also committed to providing a safe and civil educational environment that is free from harassment, intimidation or bullying. Report harassment, intimidation or bullying with SafeSchools Alert or at your school. The Harassment, Intimidation and Bullying Compliance Officer is Patty Siegwarth.